bon ça reste très magique, mais ils se sont enfin décidés à décrire clairement le monde d'AOS, ce qui rend ce dernier un peu plus acceptable (pour ceux à qui le fluff n'évoque pas tout de suite une option de sodomie non consensuelle), et c'est sur le site de la nouvelle campagne/semi V2, Malign Portents.
https://malignportents.com/
https://malignportents.com/realms/
donc en gros:
suite à la destruction du vieux monde, les vents de magie ont formé des bulles dans le néant, à peu près de la taille de géantes gazeuses, et organisées en système solaire, avec les royaumes de la lumière et de l'ombre fournissant l'alternance jour/nuit, au regard du royaume d'Azyr qui joue le rôle de soleil bien que ne se trouvant pas au centre. Dans ces bulles sphériques de réalité, en mouvement, se sont formées des accrétions de matière de la forme de disques, sur lesquels on peut vivre. Parcourir le diamètre peut prendre plusieurs décennies à un voyageur. Au centre du disque les conditions sont à peu près normales, et c'est là où l'on retrouve les civilisations. Plus on s'éloigne du centre, plus l'influence  du vent de magie est forte, et plus ça devient bizarre. Les seuls moyens pour voyager entre les mondes sont les portails et les vaisseaux des slanns. Au centre du système solaire il y a un sous-royaume (au-dessus duquel flottent les sphères, apparemment) abritant un hub des portails. Ces bulles se trouvent dans une dimension qui est donc le vide spatial, dit vide éthérique. A en croire la carte, chaque royaume du chaos forme également une "sphère de royaume" (le nom de ces bulles de réalité).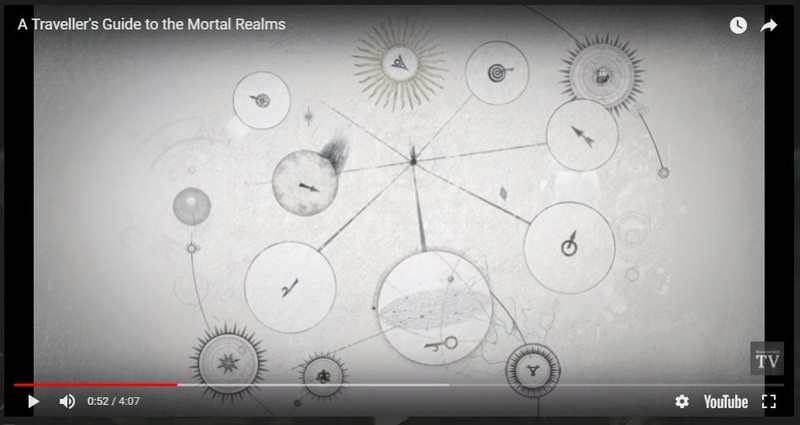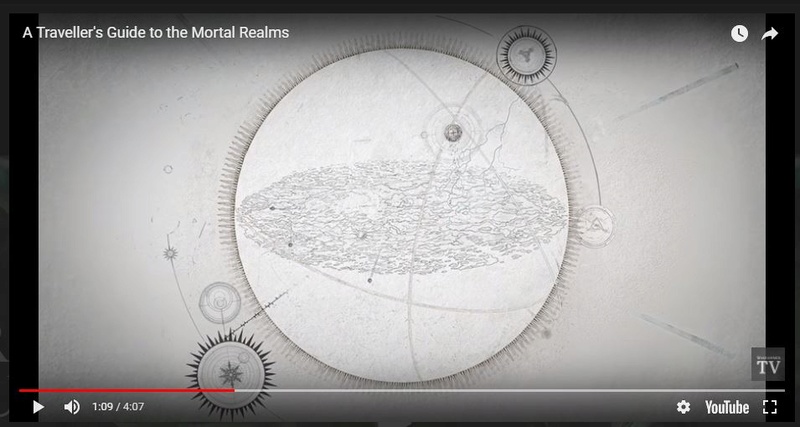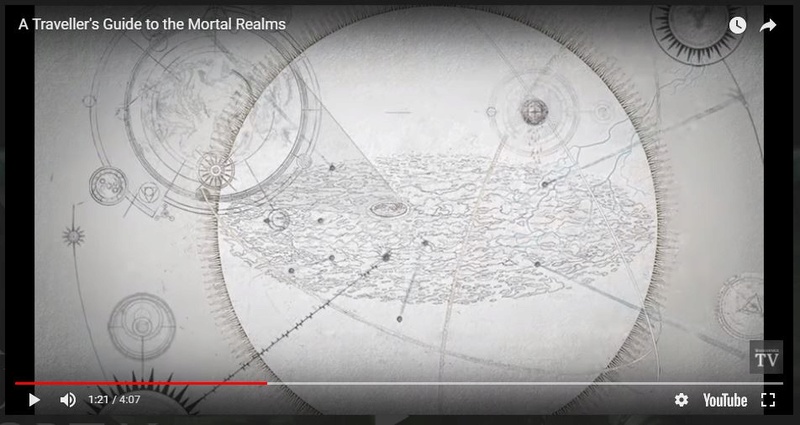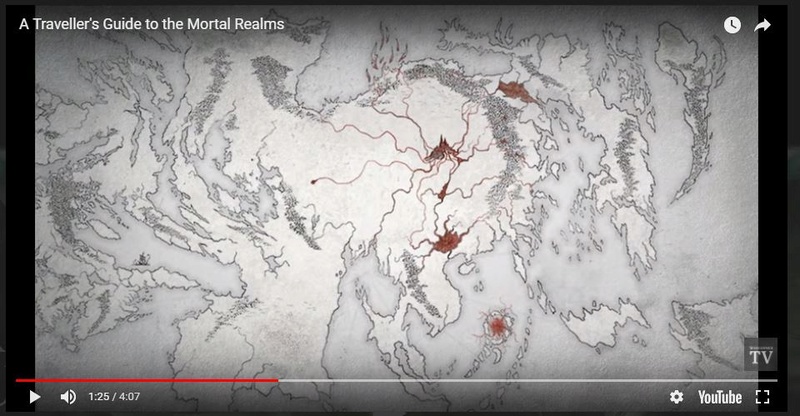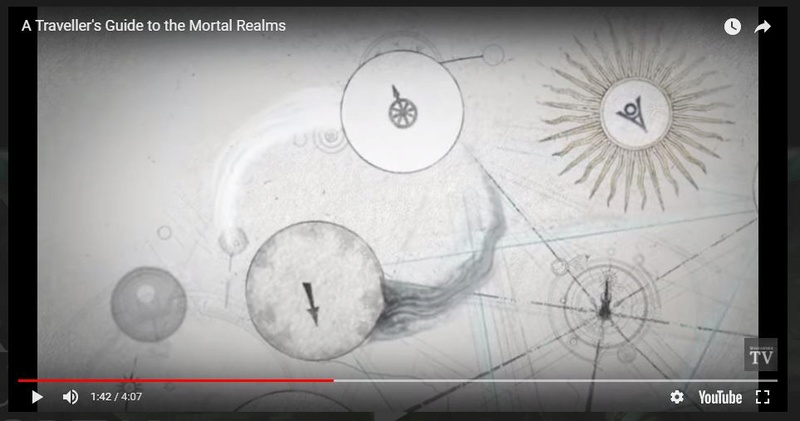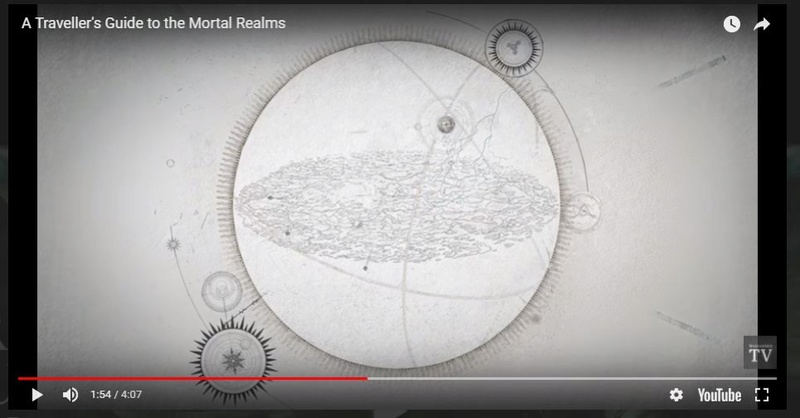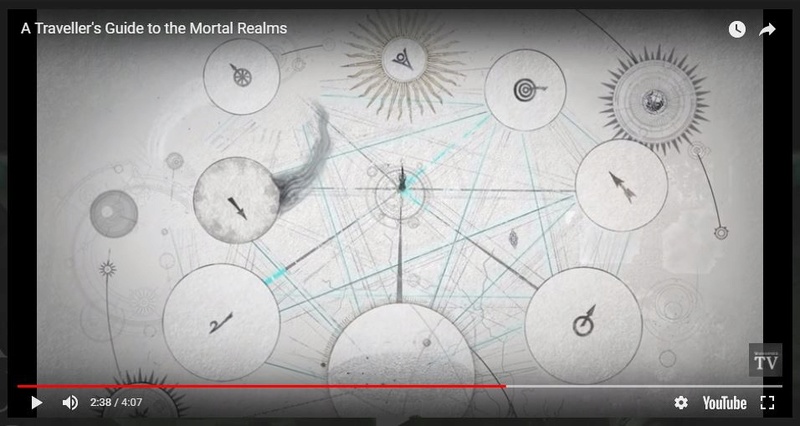 https://youtu.be/uU8HM3OuThk
DundeeHammer  ragelion • 31 minutes ago
Yeah, I didn't liked Pantheon first, because to me it gave the impression that each Mortal Realm was indeed separate (in a dimensional sense of term, you know like Materium / Immaterium) from the other ; but we knew Sigmar could see all the Realms from Sigmaron, as well as Sigendil the high star could be seen in the skies of all the Realms. Now we have both concepts, with Realmspheres (implying a Realm's end exists, for each of them) and the Aetheric void (implying travel for Slann star vessels, Sigmar storm strikes, etc. is possible). Awesome.
Now I am curious about this story in the Sylvaneth battletome about a part of Ghyran colliding with Aqsy

BTW : I think we waited 2.5 years to know all that, because it really took GW years to figure it out themselves ! I means, at AOS launch there was IMO different opinions on the nature of the Eight Realms between the designers, and the original point of new setting was to have 1. a new, 2. high fantasy, 3. giant setting for their new game, so IMO they just didn't settle the debate at AOS launch. It was only last year, with Season Of War, that they really completed the concept we have now. (And we saw a first draft of this proper cosmology in the fluff introduction of the Skirmish book).
Now we have this video. It's great, I'm glad they took their times, haha.
Turgol  DundeeHammer • an hour ago
I mean: the planet did end up exploding, but that was caused by the rift created by a third polar gate that also consumed the winds of magic. That's ET Archaon's ending. From then, it just expanded and the planet end up being destroyed. That is of course all very true, but much less relevant (for the mortal realms explanation) than the winds of magic coalescing and big-banging! The "big bang" refered to by Phil is not the planet (a planet exploding is very irrelevant after all in the grand scheme of things); it is the winds of magic and thus the creation of the mortal realms after being driven apart again, this time with substance, by the "big bang". I think that is all very clear in Phil's explanation, just not making mention of the winds of magic at the origin is what seems an erroneous omission to me.
•Reply•Share ›
−
Avatar
DundeeHammer  Turgol • an hour ago
I think the Winds themselves can't "explode"... It's more a mix of the planet, the winds (kind of natural / elemental magics forces), and all the corrupted Chaos energy unleashed when the 3 polar gates collided together that made this "big bang" happened.
Also, note that there are parts of the World-that-was that "survived" the explosions and where drawn to the new worlds ; Mallus, now residing center of Azyr realmsphere, a part of it, the Spear of Mallus, now in Ghur near the City of Excelsis, and a little splinter of the Oak of Ages, now in Ghyran (who had time to grow bigger than mountains there).